If you are just tuning in, read my previous posts about Project No-Poo:
[Part 1 – Why no poo?] [Part 2 – Becoming a dirty, dirty hippie]
[Part 3 – Conditionally unconditioned]
After the detox period, I was still struggling with my frizzy hair, especially on the top layer (the "canopy curls," according to Curly Girl: The Handbook
). My "crouching curls" (the protected layers of tightly coiled curls found close to the scalp and underneath the canopy, according to Massey) were doing quite well, despite my recent abuse. But then again, the crouching curls have never gone away for as long as I have had hair.
What I was really worried about was that top layer. When it gets dry and frizzy, the whole shape of my head looks weird, and I really didn't want to develop EMH (Early Music Hair – that inevitable descent into truly looking like a hippie, especially amongst those who specialize in early music…which I do sometimes…yikes! See photo)
Apple Cider Vinegar
After my last bouts with less-than-all-natural curl solutions, I decided to go the apple cider vinegar (ACV) route; at least I knew that only contained one ingredient. A quick search told me that I should dilute 1-2 tablespoons of ACV in 1 cup of water. I had slightly more than 2 tablespoons of ACV left in my pantry, so I fudged the ratio a little bit…but I took my bottle of ACV solution into the shower with me to try it out.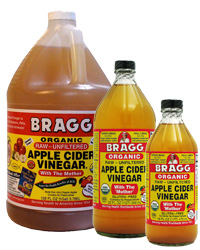 Here's the thing: ACV totally works. it seals the hair cuticle and keeps moisture in, which cuts down on frizz and makes your hair shiny. My hair felt and looked great. I could run my hands through my hair easily, without getting stuck or tangled. However, if you do decide to do it, I have a few caveats based on my own experience:
1. NEVER, ever, pour an ACV solution over your head in the shower after you have shaved. I did, and it stung! Ouchy. If I do it again, I'll be using the rinse over the sink.
2. Make sure if you're going to fudge the ratio like I did, err on the side of more dilute rather than more concentrated. After my little experiment in the shower, I thought I had rinsed all of my ACV solution, but I was plagued with the smell of vinegar all day long. I had to apologize to my colleagues for my Salad Head, and my husband told me (as he wrinkled his nose) that I smelled like boardwalk fries. NOT SEXY.
Shea Butter
I finally decided to take a trip to Whole Foods and see what kind of hippie hair products I could find that were über natural and synthetic-free. Whole Foods also sells my old conditioner, so I knew that just because Whole Foods carried it didn't necessarily mean I didn't have to read the labels. I had read quite a bit about the benefits of shea butter to seal moisture in the hair shafts, so I decided to look for plain old shea butter or at least something with no synthetics in it.
The only shea butter product that I could find on the shelves that had any kind of smell or consistency that I liked was Beautiful Curls, and of their products, the only ones that appealed to me were their Leave-In Conditioner and Curl-Defining Gel. I took a look at the ingredients:

Curl Activating Shea Butter Leave-In Conditioner: Comfrey (Symphytum officinale) Extract (aqueous), Arnica (Arnica montana) Extract (aqueous), Certified Fair Trade Shea Butter (Butyrospermum parkii), Virgin Coconut Oil (Cocos nucifera), Cetearyl Alcohol (and) Behentrimonium Chloride, Emulsifying Wax, Panthenol, Potassium Sorbate, Magnesium Sulfate, Choline Chloride, Coconut Oil (and) Raspberry Fruit Extract (and) Ylang Ylang Flower Extract, Citric Acid.
For the most part, these ingredients are fine. But cetearyl alcohol and behentrimonium chloride are synthetic chemicals, and magnesium sulfate, although naturally occurring, is one of those dreaded sulfates that people warn about when talking about how bad shampoo is for you. I put the bottle back on the shelf.
The curl-defining gel seemed to have more basic, non-synthetic ingredients.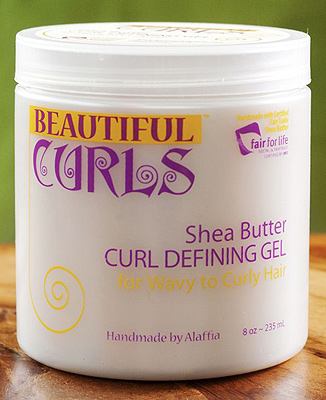 Shea Butter Curl-Defining Gel: Chamomile (Matricaria recutita) Extract (aqueous), Yarrow (Achillea millefolium) Extract (aqueous), Aloe Vera Gel (Aloe barbadensis), Agave (Agave azul) Extract, Certified Fair Trade Shea Butter (Butyrospermum parkii), Panthenol, Coconut Oil (and) Apricot Fruit Extract (and) Ylang Ylang Flower Extract , Xanthan Gum, Guar Gum, Potassium Sorbate, Citric Acid.
The Curly Girl handbook suggests putting a gel in your hair while it's still wet, to seal in the moisture, so I figured this gel might be just the ticket. A quick search for Beautiful Curls on my iPhone brought up an explanation of their Fair Trade practices for the shea butter farming and production, and not only that, the package told me that 10% of my purchase would go towards benefiting their West African community empowerment projects. It wasn't super cheap, but it wasn't the most expensive thing on the shelf, either…and I was hoping I wouldn't have to use it on a daily basis.
So what happened when I used it?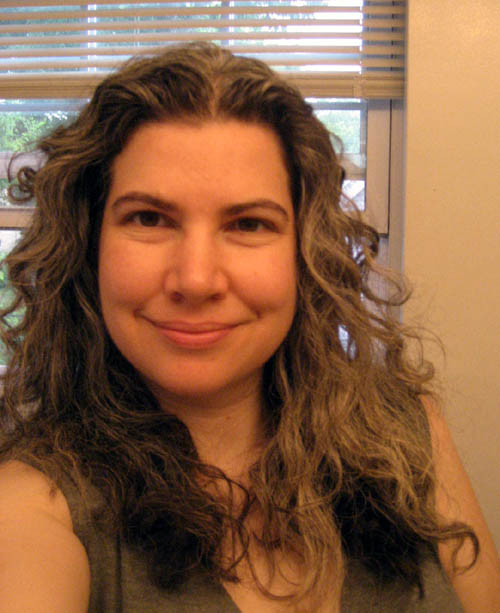 [Coming Up: Part 5 (the final chapter) – Staying on the wagon?]
Project No-Poo (Part 4): What happens when you put vinegar in your hair