What with these Indie Ink writing challenges and all, I feel like people are actually reading my blog, so I figure I should provide some more content. Below is a backstage romance "novel" that I wrote on Facebook last fall while I was in production for Otello at the Opera Company of Philadelphia. A friend of mine was taking photos backstage, and one of her pictures looked so much like a smutty romance novel cover that I couldn't resist Photoshopping it into this: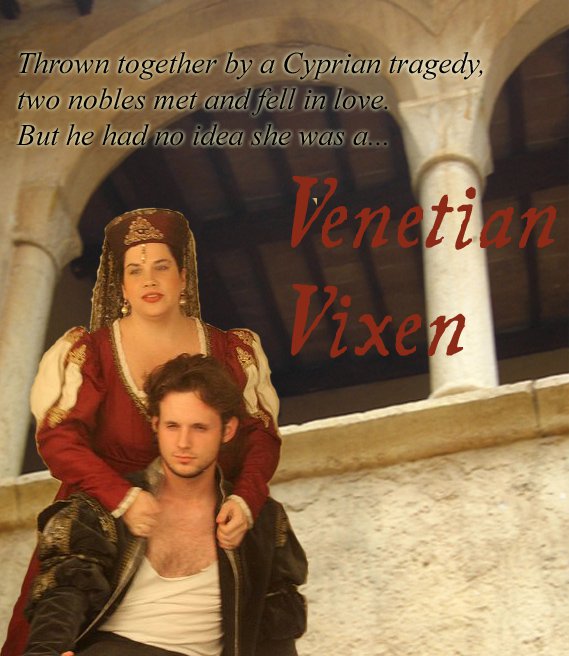 And then I couldn't stop myself from writing a faux romance novel based on these two characters. I called it Venetian Vixen. We had a lot of down time backstage.
Originally, I didn't post it on this site because it's pretty racy, and, well, most of my stuff here has been PG (after all, my dad reads this blog!). But I've been inspired by all the great writing from the folks over at Indie Ink (some of whom have pretty racy blogs!), so I thought, "What the hell?"
Anyway, that's a roundabout way of saying that you shouldn't be reading this in your cubicle or while operating heavy machinery. And under no circumstances should you read this aloud to small children or individuals with heart problems.
Now that I've gotten that out of the way, here it is, in all its glory. Oh, and I hope you don't take any of this seriously.
---
CHAPTER 1
Orror!
Those were the words uttered by almost everyone in the great hall as noble and servant alike fled the wrath of the Moor. Pandemonium in the halls led to a crush of bodies, and Lady Benedetta Albinoni, third cousin to Catherine de Medici, found herself without her maidservant or a bodyguard, dangerously close to having her hem trampled upon by the masses during the exodus.
Someone jostled her, and she lost her footing on the marble halls, stumbling into a wall.
The wall sprouted arms and righted her. "My apologies, signorina," said the wall.
Slowly, Benedetta lifted her gaze and realized the "wall" she had hit was the massive chest of the most handsome specimen of manly manliness she had ever seen. Her heartbeat quickened as she looked at his chiseled features and mused fleetingly what it would be like to be kissed by those strong lips.
****
CHAPTER 2
Guillermo di Montenegro looked down at the blushing woman in his arms. He knew he was holding her much longer than was proper for a woman of her rank, but he couldn't seem to release her. The mysterious lady's sultry eyes were mesmerizing, and Guillermo lost himself in their depths.
"Unhand me, signor." Those beautiful, dark eyes were now flashing with contempt, but her heaving breasts belied her true feelings.
He smiled lazily and tightened his hold on her. "Oh no, signorina. It is not nearly safe enough for you to be walking about by yourself."
She pushed at his muscle-hardened chest, but he held her fast. Drawing herself up as tall as she could, she shot him her haughtiest gaze. "Signor, do you know who I am?"
"No," he murmured, "but I would certainly like to find out." His chestnut locks fell across his brow as he lowered his head to steal a kiss.
Benedetta gasped in protest, and he took the opportunity to plunder her mouth with his tongue. Her protests turned to sighs of ecstasy as she returned his kiss hungrily.
The crowd around them surged forward, and she was pushed out of his arms. Shocked back to reality, Benedetta was suddenly acutely aware of her surroundings, and with only one glance back to the stranger who had awakened such frightening feelings in her, she fled into the crowd.
(to be continued…)
Venetian Vixen – Chapters 1 & 2 (NSFW)