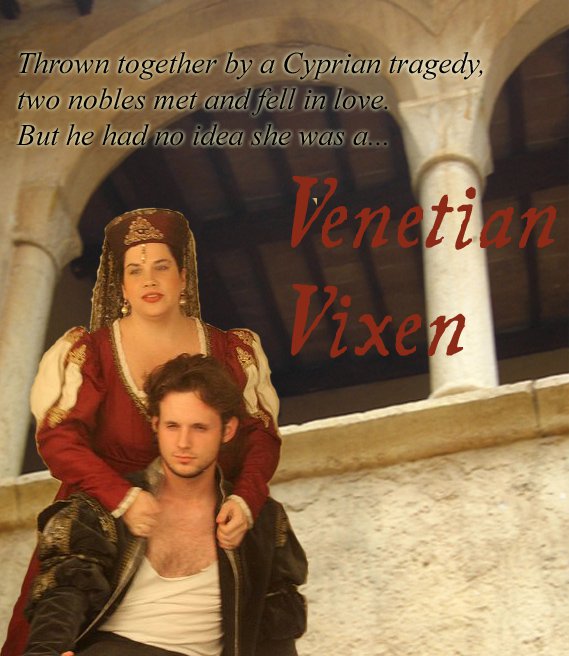 And now for the grand finale of Venetian Vixen. Because this entire "novel" has been written backstage during the run of Opera Company of Philadelphia's 2010 production of Otello, and because this was written during the final performance, I realized I would never get around to finishing the story of Benedetta and Guillermo. So I have skipped to the end. Our two lovers, after having escaped — not without much tribulation, vexation, and misunderstanding on both their parts — the mortally dangerous political intrigue of post-Otello Cypress, have finally married and moved back to Venice. This scene takes place six months after the dénouement of the "plot" (of course, I use that word loosely when referring to this storyline).
Also, as I said before, don't read this post in your cubicle or while operating heavy machinery. And under no circumstances should you read this aloud to small children or individuals with heart problems.
If you haven't already read the beginning of the story, start here:
Chapters 1 & 2
Chapters 3 & 4
---
EPILOGUE
"I think I could stay like this forever."
Benedetta sighed and gazed lovingly at her husband, his naked body covered with a thin sheen of sweat from their exertions on the bed. The full moon bathed their room with a peaceful light, and the soft croon of a gondolier wafted its way to their ears from the canal below.
"We won't be able to stay like this for too long," responded Guillermo, "for my son will soon want to join us in the world." He slid his hand over the bulge in her belly. The baby within her kicked as if in agreement.
She looked at him with one eyebrow raised."How do you know the babe is not a girl?"
"Because of the way he kicks, amor," he moved closer and nuzzled her neck.
She allowed him to distract her for a few moments with his attentions, but then, struck with a sudden hunger, arose from the bed and made her way to the fruit-laden bowl on the table in the middle of the room.
He lounged in the bed as he observed her perfectly rounded figure crossing the room. Popping a grape in her mouth, she turned to face him. "So if this child is a boy, what will be his name?"
"Bassanio. I have always wanted to have a child named Bassanio," he said with authority.
She cocked her head to the side as she considered the name."Bassanio," she said slowly. "I always preferred the name Nerissa, myself, for a girl."
"Well, it will not be a girl," he insisted again as he rose from the bed to join her at the table.
He picked at the grapes while she chose a more exotic fruit, a banana newly delivered all the way from the New World. She peeled and ate it slowly, gazing at him with heat in her eyes.
"When this babe is born," vowed Guillermo as he pulled her close, "we shall have to move into some larger apartments. Perhaps the purchase of a palazzo is in order."
"Have you finally made amends with my family, then, that you will be able to afford a palazzo?" she asked archly.
"Perhaps," he murmured as he bestowed gentle kisses upon her face. "Or perhaps I have found a new investment partner."
"Oh?" she asked breathlessly. She was barely paying attention to his words.
"Indeed." His kisses made their way down her neck to her breasts and even lower as he knelt down before her. "I've met a most promising young moneylender named Shylock."
They conversed no more, as his mouth was otherwise occupied, and her mind was transported to a place beyond words.
Venetian Vixen – Epilogue (NSFW)