After we said goodbye to my mom, we left the island of Oahu and hopped on over to Kauai.
The plane trip took just a bit over an hour, just enough time for the flight crew to pass out tiny cups of P.O.G. for us to drink, then take the empty cups away immediately. We landed, grabbed a bite to eat, and made our way up the coast to our vacation rental in Anahola.
After settling ourselves in, we read through the rental binder and accompanying guidebook and started to talk about what to do for dinner. Since our fridge was empty, Ray declared that we should make a trip out to get at least the three essentials: "water, toilet paper, and beer."
And so it was decided that we should venture back into Lihue to a new brewpub called Kauai Beer Company. They were so new that they didn't have a kitchen yet, but they did have tastings exactly at that time, so we were excited to go.
While drinking our samplers, we met a couple of locals, Kyle and Cliff. Kyle was a fellow craft beer enthusiast, and had lots to say about beer in general and these beers in particular. Cliff looked a bit like a younger, more updated version of The Dude, and he ended up drawing us a map of some fun hiking trails with spectacular views. We bought Cliff a beer for his trouble, and Kyle bought us some beer so he could see what our reaction was to some different tastes. We left the place with a commemorative growler and smiles on our faces.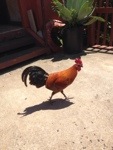 The next day (Thursday), Ray woke up at 3:45 AM because of the roosters. I woke up a few hours later, but the roosters didn't stop crowing until after 9:30. Apparently, there was a hurricane that hit the island a decade or so ago, and many chicken coops got destroyed. After that, Kauai became overrun with mutant super chickens. They are all over the place, and they have no idea that they are only supposed to crow at dawn and that's it! Stupid mutant chickens.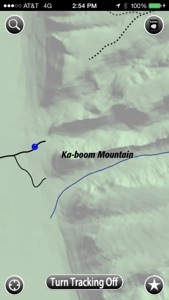 We decided to go for a drive down to the westernmost point of the island, which is near the Pacific Missile Testing Range. The road ends at an ominous-looking gate, and the guidebook I had downloaded onto my phone called it "Ka-boom Mountain" because of the munitions that the military has stored in that area. We figured it would NOT be a good place to go exploring, so we turned the car around.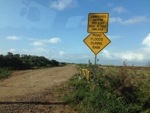 A little bit back down the road, we found the turn-off to Polihale State Park, which was a pock-marked road with a big sign warning that it was not maintained. We figured our Jeep could make it just fine…and it did, although I think I may have suffered whiplash from all the bumps!
The beach itself was huge and daunting. The sand was hot, and the waves were crashing against the shore with fury. We saw some natives drive their trucks along the sand; our guidebook had warned us not to attempt it unless we let the air out of our tires…and we weren't about to do something like that, not so far away from any major town.
On our way out of Polihale, we passed a couple of trucks heading towards the beach. The first truck had a bunch of surfboards on its roof.
"Those people are crazy," I remarked. "Who would want to go surfing in those harsh waves?"
Another truck followed close behind, with six people sitting uncomfortably in the bed of the pickup.
"It must be a tour," Ray said.
"A tour run by some sketchy people," I answered. "Like Peg-Leg Joe's Surfing Adventure or something like that."
We took turns imagining what Peg-Leg Joe's Surfing Adventure would be like. We figured the motto for a tour like that would be "An adventure where your last words will be, 'Hey y'all, look at this!'"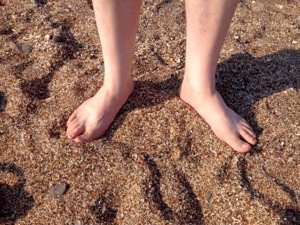 As the sun fell in the sky, we found ourselves at Glass Beach, a beach that is filled with glass from the nearby industrial dumping grounds. Over the decades, the waves have turned the glass shards into tiny grains of sand, and it's amazing to see what happens to man-made waste when given enough time with nature.
We scrambled up onto the rocks to see some glass buried straight into the hill, as well as some huge pieces of machinery that had become enmeshed with the lava. It's bizarre, but it's quite beautiful. And I get to say that I have gone walking on broken glass.