I have a few days' worth of posts to fit into this one, folks. Hopefully I can keep it (somewhat) brief.
Last time we visited Hawaii, we went to the island of Maui, and the plan was for me and my mom to go snorkeling together (Ray doesn't do water activities). However, we had limited time with each other, and we had left off snorkeling to the last activity on our agenda; by the time we got around to doing it, the weather wasn't cooperating with us. Long story short, I didn't get to snorkel in Maui.
I was determined to go snorkeling during this trip. I even bought brand new fancy snorkeling gear from this awesome dive shop back home, I was so set on the idea. My mom was excited, and so was her wife, K., who spends a lot of time kayaking, snorkeling, and surfing. We planned on having our snorkel adventure on Monday. Ray was happy to stay home and read his gigantic new Brandon Sanderson novel.
Monday morning came around, and it went a little bit like this:
10:00 – Mom calls to let me know that K. is still sleeping. "It's okay," I tell her. "We have tons of time."
11:00 – Mom calls again. K. just woke up. In the meantime, Ray and I had decided on having lunch at the Kona Brewing Company on the south side of the island. We all decide that's a great idea, because there are lots of snorkeling spots right near there.
12:00 – We all pile into the car for the long drive down to the south side. Our GPS takes us along Pali Highway, through the mountains in the middle of the island, probably because of traffic on H-1. It's a long drive, but there were some spectacular views.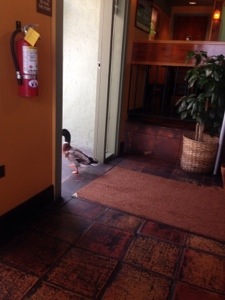 1:40 – we finally arrive at the brewpub. And we're starving! Our waitress is indifferent and not very knowledgable about beers, which we find odd at a restaurant like this. The brewery itself is on the Big Island, in Kona, so this is technically just a restaurant, but that shouldn't make too much of a difference.
Fred, a regular to the bar (who just happened to be a duck), came for a visit. The waitstaff didn't have a name for him, so Ray named him Fred after Mr. Rogers. Who are the people in your neighborhood?
3:00 – we finish lunch and wander around the shopping center looking for dessert. It is now too late in the day to go snorkeling, so we decide to go back home via the shoreline, and at least get some nice pictures.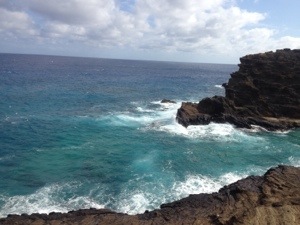 3:30 – First stop: The Blowhole. The day was beautiful, but the tide was too far out, and we didn't get any of the spectacular blowhole activity. We did get some nice shore pics, though.
3:45 – Next stop: Makapuu Lighthouse. Unfortunately, by the time we got there, we realized it was probably too long a hike to do so late in the day, so we got back in the car and headed back home.
The drive home was long, too, and tiring. I got a little (maybe a little more than a little) cranky on the way back, since we ended up taking an accidental detour that added 30 minutes to our already long trip. The views were beautiful, but I wanted to experience them up close, not from a car window!
We got home, and ended up having a quick supper and off to bed.
The following day (Tuesday), my mom and I did end up snorkeling, just by ourselves, and on the North Shore! I don't have pictures right now because I took them with my fancy underwater camera, but when I get home, I will upload them.