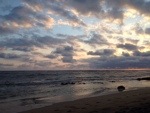 It's been more than a year since I've posted anything…and now I am on vacation, so the travel posts will be coming around pretty often, so strap yourselves in! I've got a lot of catching up to do.
Our flight out to Hawaii was fairly uneventful, if long.
We had a layover in Phoenix which meant we were in transit for about 18 hours.
When we arrived in the Honolulu airport, we were told to take the Wiki-Wiki shuttle to get our bags, because the baggage claim was a good 20-minute walk from the gate (as my friend Dave commented: "Alohuh?").
My mom met us at the airport, but she was in the cell phone waiting lot (which isn't marked on any of the GPS maps) and we had to get a rental car, so it took some time for us to finally connect. We had been awake for a good 20 hours by this time, and both of us were super cranky about getting lost in the airport parking area, so when we did find each other, my mom suggested we decompress at a little hideaway tiki bar not far away.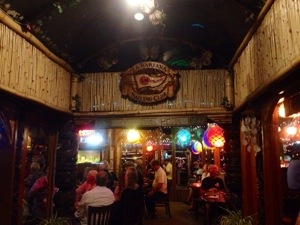 At Disneyland, they have a place called the Tiki Room, which is a show with animatronic parrots and tiki sculptures that sing. There is also a place called the Tonga Room in the Fairmont Hotel in San Francisco that is decorated in a Polynesian style and has a pool with a floating platform where a live band plays. Both these places are polished, absolutely fine places to go for entertainment, but here? Here, at La Mariana Sailing Club, we were visiting the last of the original tiki bars that inspired that Polynesian craze on the mainland back in the 1950s.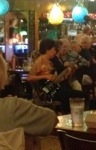 Nothing about this place was polished or refined, but it was warm, welcoming, and everyone there was having a good time. The crowd was being entertained by a guy (not blind!) singing and playing on an electric piano and an older Chinese lady playing the electric bass, which was a sight to behold.
We may have accidentally crashed a reunion of the Class of 1954; at one point during the meal, a large group of diners got up and began singing some sort of school fight song, complete with a pompom dance by one of the ladies. After that, more drunk, elderly diners got up to sing their favorite tunes as if it were open mic night, much to our chagrin.
We were operating on so little sleep that the entire experience had a surreal quality to it, as if we had somehow fallen through a wormhole into an alternate reality.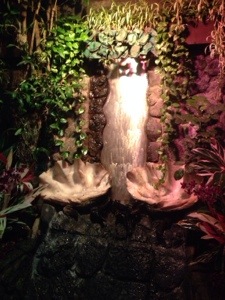 Still, it was a wonderful thing to experience this place frozen in time, with its glass buoy lanterns and highly suggestive waterfall. Bizarre as it was, I'm glad it was our first stop after such a long flight.
What Happens at the Tiki Bar Stays at the Tiki Bar