As I write this, I'm 30,000 feet somewhere above the continental United States, making my way home all too quickly. And now that my vacation has ended, perhaps it is time for a few lists of my observations (and rants) of oddities I experienced during the trip.
Things I wish I had known ahead of time:
1. Airlines no longer provide meals with their flights. I think I heard about it when other airlines began adopting the Southwest food model, but I clearly didn't pay much attention. There's now an a la carte selection of overpriced, tiny-portion snacks (or as they term them, "tapas," to make you feel better about spending your money), of which there are very few vegetarian options. If I had known, I would have packed my own meals.
2. In Hawaii, it's illegal to provide plastic bags at stores. If, as you are shopping, you forget to bring your own, you can buy a bag for 50 cents. I actually think this is really cool, and I didn't mind forking over the money…but if I had known, I would have packed a couple of canvas bags.
3. If you want to take a tour, book at least a day in advance. It's better if you book a week in advance. We were kind of surprised (and I was disappointed) by the number of things we couldn't do on a whim because by the time I called the reservation desk, the tour was completely booked. In hindsight, that shouldn't have been surprising at all, seeing how much of Maui revolves around the tourist industry, but it was frustrating nevertheless.
Rants:
1. Signs and grammar
Everywhere we drove around the island, we were bound to come across a sign cautioning us to "drive slow," which slowly drove me up a wall. Doesn't anyone in Hawaii care that "slowly" is the correct form of the word?Anyone? Bueller?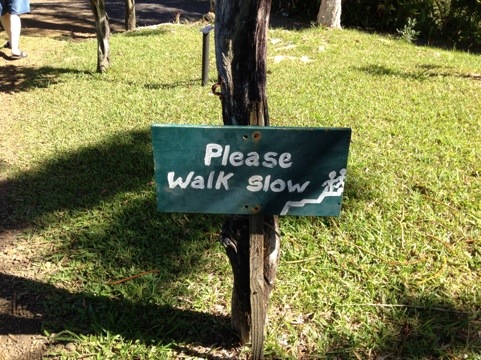 2. Hana and its food service industry
Okay, look: I know Hana is a remote part of the island, hidden away in miles of jungle and cliffs. I saw the signs on those one-lane bridges, proclaiming, "maximum 12 tons," then a few miles down, "maximum 8 tons," and finally, "maximum 5 tons." We wondered: what would happen to the 8-ton truck that came barreling around the corner only to stop, unable to travel further?
So yeah, I get it: it is hard to get supplies into and out of Hana via road, and with its tiny airport and rough waters, it's probably really expensive to get stuff delivered by air or sea.
And I knew from reading my guides that there wasn't much in the way of dining establishments in Hana. One online guide even said, "Just about the only standalone restaurant in Hana is the Hana Ranch House, which is renowned for marginal food and indifferent service. When there are no competitors, what else can you expect?"
So I had low expectations. And I was pleasantly surprised at the food and friendly service at Hana Ranch Restaurant.
There actually are other places to eat, but not many. If you don't count the numerous fruit stands peppered along the highway every mile or so, there are several sandwich shacks in town, including:
The only comparable competitor to Hana Ranch Restaurant is Paniolo Lounge, at the Travaasa Hotel and Spa. The grounds, website, and prices all boasted the resort's "luxury" status, but the food and service were just shy of mediocre. The waitstaff all seemed apathetic and poorly trained (I ordered a tuna niçoise salad, and the waitress never asked me how I would like my tuna cooked), and the food that came out of the kitchen was incredibly disappointing: not only was my tuna well done instead of rare, it was smothered in dressing and olives; Ray's Margherita pizza was more like a cheese pizza with flecks of basil. This fare was something I might have expected from a tiny establishment not set up to serve this kind of food, but at those prices? I am so. Incredibly. Disappointed.
Give me a Fresh Catch Sandwich at Hana Ranch Restaurant any day; it might still be a little pricey, but at least they know how to prepare it.
I guess the long and short of this rather long rant is that Hana is a tourist destination. Perhaps it's a lack of ambition, passion, or steady supplies that has prevented a large restaurant industry from growing in that town, but I believe someone who has all three of those things might just make a killing there.
Maui is what bwings us togevah today