They call me Rumpelstiltskin.
I'm telling you that up front, because for a very long time, people could never remember my name. And when I finally could get someone to say my name out loud, I ended up becoming villified by the media for centuries. Never mind the fact that I took a poor girl and elevated her to the richest and most powerful position in the country. Never mind that I brought the kingdom from the brink of financial ruin into economic prosperity. They always forget that point when they tell the story; they like to focus only on the negative bits.
Maybe it's time I got to tell my side of the story. Maybe you won't be so quick to judge next time.
It all started when I was a stupid teenager. I was exploring the caves near my house and stumbled upon a pile of old, discarded spinning wheels, probably from The Burning Times (a few generations ago, when the king ordered all the spinning wheels and spindles in the kingdom to be burned. I never could figure out why someone would want to destroy such an important tool of industry, just on the off chance your daughter might be hurt using it. That king had eliminated a major export: fine cloth. The economy had begun to take a nose dive from there, and the kingdom was now heavily in debt. Talk about cutting off your nose to spite your face!).
On the back of the heap, one spinning wheel stood out that looked to be not as broken as the rest. The wood was still in good condition after all these years, and all the parts were still intact.
And then I noticed something glittering on the bobbin. Gold thread!
I rummaged through the rest of the heap for hours, but couldn't find any more. Still, even this small bit of gold was more than I had seen in my short lifetime; I moved the fly wheel back and forth, watching the gold gleam on the bobbin. There were a few tufts of grass stuck to the orifice, which I tried to pull off, but they did not come off so easily. Instead, the fly wheel seemed to pull the grass through the orifice right onto the bobbin, transforming it into gold right in front of my eyes.
With the sun already beginning to set, I wasted no time. I strapped the entire spinning wheel to my back and returned to my house, imagining how excited my family would be when I showed them this unusual object.
To my dismay, nobody recognized me when I came home. No matter what I did or said, my family and neighbors treated me like a complete stranger — and nobody in town liked strangers. I was beaten and left for dead by the side of the road, with my spinning wheel still strapped to my back.
I was discovered the next day by an old wise-woman who had been cast out of the town years ago after being accused of witchcraft. She took pity on me and brought me to her home in the middle of the woods. It was she who told me that I should never have put my hands on such a powerful magical item. "You've probably been cursed with anonymity," she informed me as she nursed me back to health. "I've seen this kind of thing before."
I sat up in bed. "You have? Is there any cure? Should I destroy the spinning wheel?"
She chuckled. "The previous owners obviously couldn't destroy it. What makes you think you can?"
"Then what should I do? How do I get my life back?"
Her withered face turned thoughtful. "If you can find someone who will remember your name and say it out loud, the curse should be broken."
"Then do it. Say my name."
"What is it, dear?"
"It's Rumpelstiltskin."
"I'm sorry, what? I couldn't hear you."
"Rumpelstiltskin."
We went back and forth like this for several minutes, until she finally shook her head. "I think the curse is too strong for me. The second after you tell me your name, I forget it. You'll have to find someone who is really stubborn and has a really strong motivation for remembering your name."
The wise-woman let me stay with her, and in return I helped her around the house and the garden. Knowing I was stuck with the spinning wheel, I decided to put it to work for me. I learned how to spin straw into gold. I never spun too much, but we were able to afford plenty of fresh-milled corn and flour, and I kept us both well-clothed.
Every night after dinner, the wise-woman and I would sit in front of the fire and brainstorm ways to break my curse. Our plans got more and more elaborate as the months wore on, although we both knew that in all likelihood I would never find a cure.
Two winters after she found me, the wise-woman died. I stayed in her house, took care of her garden, but with every passing year, I became more and more determined to find someone who could speak my name out loud and break the curse. Every night I made plans, just like the wise-woman and I used to do, but I did so patiently and methodically. I learned how to read people and manipulate them through their greed. It's amazing what people will do for gold. I should know.
I got my lucky break a few decades later, when a new miller moved into town. His eyes lit up the first time I brought my strands of gold to him as payment for flour. He invited me to dinner that night, and I knew he was hoping to foist his daughter off on me to get to my gold. I happily accepted.
His daughter was very beautiful, but she was not very bright. She paid more attention to her looks than her domestic duties; dinner that evening was terrible. She seemed frightened by her father and shy around me. When her father left us alone together, I tried to make her a little more comfortable.
"You're not very attracted to me, are you?" I asked bluntly.
"Oh…uh–" she stammered, glancing nervously at her father's silhouette in the garden.
"It's okay. I know I'm no catch." My beating so many years ago had left me with a disfigured face and one leg that had healed shorter than the other.
"My father thinks you would make a good husband."
I peered closely at her. "Don't you want to know my name first?"
"Oh, of course!" she answered, giggling. "But I know your name already, don't I?"
"Do you? What is it?"
"It's…um…it's…I can't remember." Her bright blue eyes welled with tears. "But I'm sure I know it!"
I gently placed my hand on her arm, and she flinched slightly. She was perfect for my plans. "Don't worry, my dear," I said. "I don't actually want to get married."
She breathed a sigh of relief.
"Would you like to be my friend instead?"
"Friend?" Her eyes widened. "I…suppose," she answered. "As long as Father doesn't mind," she added, the nervous edge coming back into her voice.
That's when I put my plan into action. I gave the miller's daughter some of my golden strands and told her to keep them in her yarn basket. I visited often, bringing more and more golden strands, especially when I noticed her father taking them for himself. I set up the road block that caused the king to pass by the miller's house that day, and I was the one who suggested to her that she start spinning by the road, with her shiny golden strands hanging out of her basket.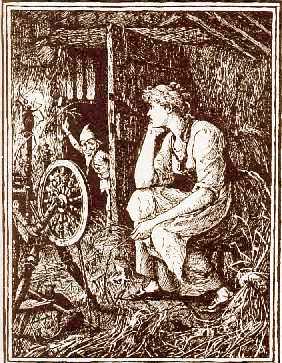 I was all too happy to oblige her when she came to me for help after the king demanded that she spin straw into gold. And at the end of every night that I would deliver her gold, I would see her slumped over her spinning wheel, dried tears streaking her cheeks. "My name is Rumpelstiltskin," I would whisper in her ear. "Tell the king who is helping you. Say my name and we shall both be free."
But she never said my name.
That last evening, I arrived in her cell, and I was angry. "What is my name?" I demanded.
"I don't remember," she replied. "I know you've done so much for me…but I need your help again. I'll give you anything."
I pretended to think about it, but I knew what I was going to ask for. "Will you give me your first born child?"
She gasped. For a moment, I thought she was going to refuse, but she glanced at the skein of gold I held in my hand. She nodded. "Anything."
And so I brought her the rest of the gold and whispered my name in her ear at dawn.
The king, pleased with all the riches this stupid woman had provided him, married her. I sent her messages, trying to remind her who I was, trying to get her to say my name, but the harder I tried, the less she remembered me.
Finally, she gave birth to a son. And I watched from afar as she nursed and cooed over her baby. Finally, I thought. She will have motivation.
In the middle of the night, I sneaked into the nursery and plucked the sleeping baby out of his cradle.
"I knew you would come." She had been sleeping in a chair near the cradle and had woken up as I had entered the room.
"We had a deal."
"I know…but…he's my baby. I can't let him go. I just can't."
I sighed and put the baby back down. He tossed and cooed but did not awaken. "Then I have a deal for you. Say my name, my true name, and I will never return."
"But I don't know it!" She began to weep in frustration.
"Well, then, I'm sorry. I'll just have to take–"
"No!" she cried. "Give me three days. Three days, and I'll figure out your name."
We stared at each other for a long time. Finally, I turned and limped out of the room. "Three days, your majesty. And then your son is mine."
You know the rest of the story; she used the vast resources she had at her disposal to find out my name, but the curse affected everyone. It wasn't until she followed me out into the woods herself and saw me in front of my little cottage, singing a song about my name.
She thought she was the victor; she thought she had saved her baby and defeated the monster — that's what she told people I was, after everything I did for her! What she never realized was that I was just as much of a winner as she.
Once my veil of anonymity was lifted, I had no desire to go anywhere near that cursed spinning wheel again. I tried starting over again, but the queen was so afraid that I would tell everyone that she hadn't spun the straw into gold that she spread terrible rumors about me (That bit about me stamping my feet until I fell into hell? Not true. I happened to step on a rotted board and got my leg stuck in the floor for about a second. They don't keep those palaces in nearly as good shape as you might think). I hoped to put the past behind me, but the rumors kept following me, wherever I went. I almost began to wish for anonymity again. Almost.
All those years of planning paid off, though. I knew exactly how to pay her back for making me infamous. I waited until her son had grown and her husband had died, and then I had the spinning wheel hand-delivered to the queen. She couldn't resist touching it.
Think about it: in all the times you have heard this story, did you ever learn what her name was?
---
This week's Indie Ink challenge came from
Jurgen Nation
, who gave me this prompt:
Name something (a person, place or thing). Then take it from there.
I challenged Stefan, who answered his prompt in kick-ass fashion here.