Last fall, I was shopping for a fabulous diva dress at a well-known bridal chain, and the sales lady was helping me go through gown after gown after gown. Finally, curiosity got the better of her, and she asked me what event I was going to attend.
I told her that I was going to be a soloist at the Lancaster Symphony Orchestra's performance of Verdi's Requiem.
She had a blank look on her face.
"I'm an opera singer," I explained. "So I need a dress that makes me look like a diva."
"Oh, an opera singer!" she exclaimed. "You mean like Jackie Evancho?"
My heart sank. "Um, not really," I said. "But if it helps you to think of it that way, then yes."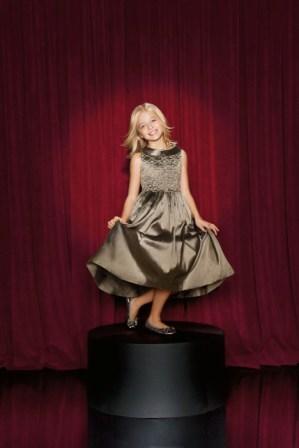 We classical singers get a lot of that: well-meaning, but completely ignorant comparisons to whatever pop-opera crossover sensation is in vogue. My coloratura friends get a lot of "You sound just like Sarah Brightman," even though they don't realize Brightman's high E in Phantom of the Opera was brief and digitally enhanced on the recording, or that Brightman's career as an opera singer has been limited to playing the ROLE of an opera singer in that musical. As for me, people don't know any famous mezzos, so they just pick a name that they've heard recently — like Jackie Evancho or Charlotte Church, or even Josh Groban.
Now, before we get too far in this post, let me state that I think there is nothing at all wrong with the pop/opera crossover genre. I personally don't like it, but I also don't like most country music, gangsta rap, or bluegrass. Groups like Il Divo and individuals like Josh Groban and Andrea Bocelli have done very well for themselves in this genre, and there are plenty of people who are willing to throw their money at the marketing machines that follow them around. More power to them. I wish I had a staff of 20 to do all my PR for me.
What really upsets me is when those folks set their sights on a little girl.
Jackie Evancho is a very cute girl. She is well-behaved and knows how to conduct herself in on television and radio (as I discovered while driving to rehearsal one day, listening to Michelle Norris interview her for All Things Considered. Shame on you, NPR, for buying into this fraud. Although, maybe I should thank you: you are the reason I'm ranting right now). Evancho is only 11 years old, and she has been thrust into the spotlight very quickly. Even she admits she spends more time on a plane or a bus than at home, and that can't be healthy from a psychological perspective.
But let's put all the psychological stuff aside for a moment. We all know growing up in the spotlight is difficult. Some people can hack it (Shirley Temple, Ron Howard); some people can't (Corey Haim, the Olsen twins). I don't know where Jackie falls in that equation, and frankly, the emotional effect of her fame doesn't worry me nearly as much as the physical effects.
The human voice takes a long time to mature. One of the reasons babies can make such excruciatingly high sounds is that their vocal cords are tiny and thin (think of the difference in size between oboe reeds and bassoon reeds; the ones that make higher pitches are smaller and thinner). As we grow, our vocal mechanism changes shape and becomes less elastic, and the sounds we can produce are rounder and fuller. You don't have to hear trained opera singers to find the difference in sound; just listen to the difference in sound between the speaking voice of a 16-year-old versus a 30-year-old. That maturity comes with age. It's a physiological phenomenon; it has nothing to do with talent.
Which brings me back to Jackie Evancho. The remarkable thing about her is that this mature-sounding voice is coming out of the body of a cute little girl. What nobody realizes is that she is achieving that effect by modifying her voice to mimic the sound that she thinks everyone wants to hear. The sounds she is producing are not the sounds that any 11-year-old would make without modification. And while there is nothing really wrong with modification on occasion, too much can cause serious damage to her voice.
Here is a video of her singing "Nessun dorma" (a tenor aria from Turandot by Puccini. It has been transposed down a minor third so that she can hit the high notes)
Watch the full episode. See more Great Performances.
Take a look at her mouth when she sings. Her lower lip and jaw are wobbling, which is a classic sign of tension in the neck. If she was producing these sounds naturally, there would be no tension at all. Charlotte Church also had a huge jaw wobble, and she just got worse and worse and worse until it impinged on her cuteness and people just stopped hiring her.
The other thing that bothers me about her singing this kind or repertoire is that it is so clearly not suited to her. This aria is sung by Prince Calaf, as he vows to conquer the tyrant queen Turandot with his love. Here is the translation:
Nobody shall sleep!…
Nobody shall sleep!
Even you, o Princess,
in your cold room,
watch the stars,
that tremble with love and with hope.
But my secret is hidden within me,
my name no one shall know…
No!…No!…
On your mouth I will tell it when the light shines.
And my kiss will dissolve the silence that makes you mine!…
(No one will know his name and we must, alas, die.)
Vanish, o night!
Set, stars! Set, stars!
At dawn, I will win! I will win! I will win!
Now you tell me: is that a song that an 11-year-old girl should be singing? Do you think, watching that video, that she has any idea what this song is about?
If Jackie's long-term dream is to be a singer for the rest of her life, she should quit touring right now (but save her agent's phone number!), go back home and back to school, study music history and music theory, learn about math and grammar and philosophy and biology, study languages (French, German, and Italian at the very least), and when she's grown into her proper voice, THEN kickstart her career back into motion.
Because the path she's on right now has a huge potential for ending in disaster. And all the well-meaning, ignorant people of the world are helping her down that path.
Do you agree? Disagree? Let me know in the comments.
---
This post was featured on Studio 30+, an online magazine for bloggers over the age of 30. I got a bunch of comments from one big Jackie Evancho fan, which I tried to rebut as nicely as possible (and hey, he complimented me at the end, so he can't be all that bad). You can read those comments here.
Someone on Twitter also slammed me for being hypocritical (I started singing at age 7 myself, at the San Francisco Girls Chorus! And my San Francisco Opera Company debut was at age 10 in Werther. I had one line, "Merci," which I sang to Renata Scotto, but it was enough to get my name in the program). So perhaps I should clarify: I don't have a problem with children learning how to sing and getting performance experience. My problem is with Jackie's extremely unnatural vocal technique, as detailed above.
I'd love to hear from some other singers in the comments, too. I know you're out there! Don't be shy.
I know I could go back and forth ad nauseam with anyone whose admiration for Jackie Evancho transcends the desire to actually listen to what I have to say…and really, I don't expect Jackie and her parents to change what they are doing. Why should they? They're making way too much money. I just feel the need to feebly shake my fist at the reality-star obsessed society we live in. By exalting the mimicry that Jackie Evancho produces, we negate all the years of training and experience people like me go through to produce a legitimately natural sound. Jackie isn't the first of her kind, nor will she be the last. But I sure wish NPR and PBS wouldn't showcase her.
Prodigy (or, why I don't like Jackie Evancho)