Responding to a tweet last week from my friend MightyHunter, I joined a writing challenge from Indie Ink. I've been experiencing some writer's block recently (not a great thing when all I do is write grants all day), and I figured this might help loosen me up and help me write a little better.
Of course, when my husband found out about the challenge, his first reaction was, "Like you don't have enough shit to do?"
And he was right.
I've already read some of the challenge responses here and here and especially here (my challenger), all of which make this challenge seem more daunting to me. Never mind the fact that I am more comfortable writing fiction, but I decided to answer my challenge with a non-fiction piece.
Nevertheless, I know that if I keep self-judging, I'll only get in my own way, so here goes…hopefully I'll get better with the next few challenges…
---
My challenge from
Christine
:
Get a piece of paper and a pen. Close your eyes and put the pen to the paper. Keep your eyes closed and draw for 30 seconds. Write a piece, fiction or non about your drawing. The piece should include the words "diffuse" "clarity" and "depth". Take a photo of your drawing and include it with the piece.
---
Sure, I guess I have a fairly decent hand at drawing, which I developed over the many years in my childhood when my mother dragged me to her rehearsals and stuck me in a corner with a sketchbook. But then, as now, I have been very particular with my figures, preferring the clarity of realism to an abstract subject.
Having only 30 seconds to draw wouldn't have been so bad either, if it weren't for the fact that I had to keep my eyes closed. So in order to keep things simple, I decided to think of a straightforward image, something with clean lines and very little depth.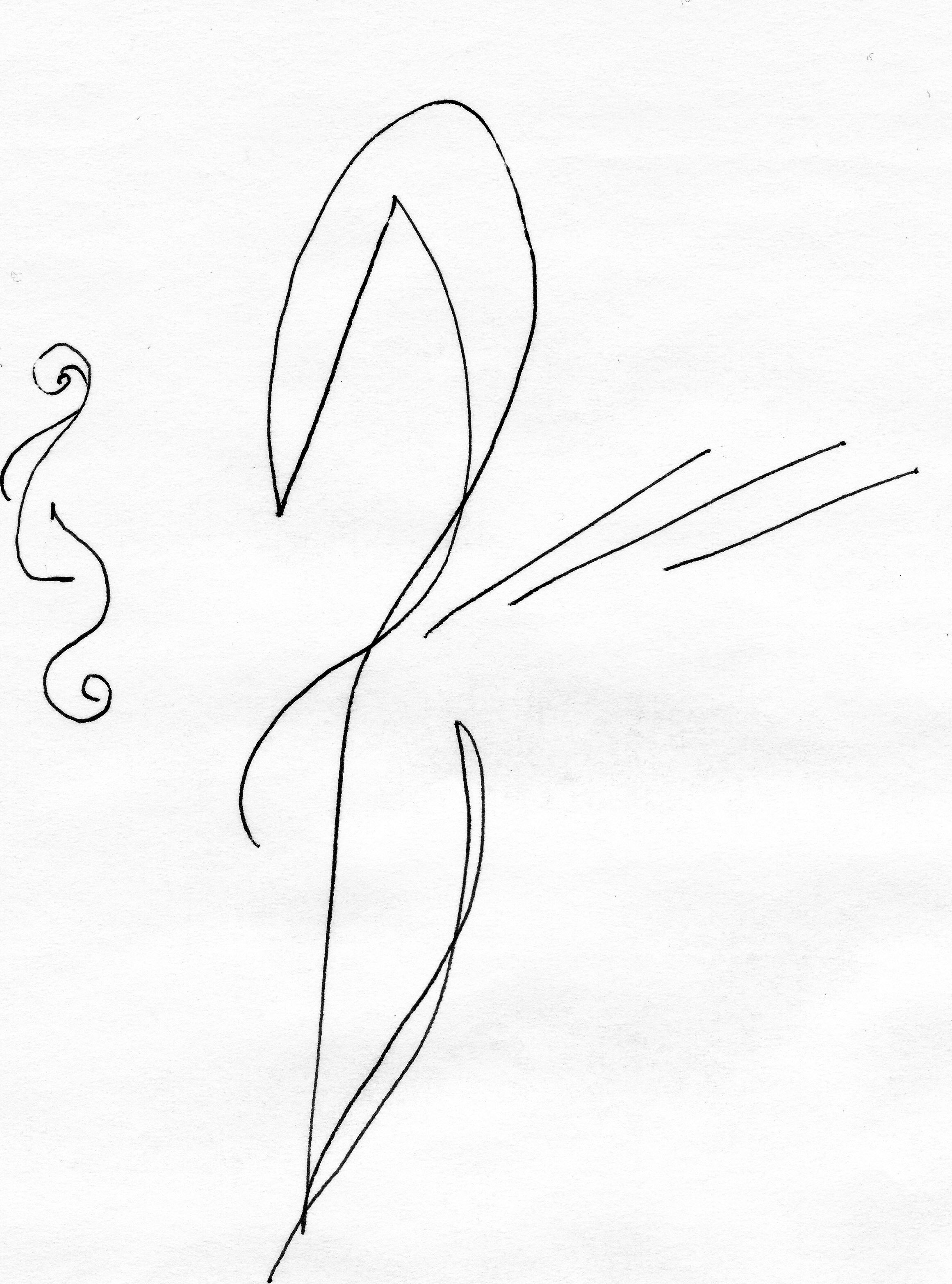 Remembering a high school art class where I had drawn a still life of calla lilies, I kept the image of a single calla lily in my mind and started following the curves of the flower in my head as I put the pen to paper. Once I lifted my pen up, however, I realized the image was beginning to become diffuse in my mind's eye; not only could I not remember what I was drawing, but I didn't know where my pen was in relation to the paper.
I had to let go. I doodled some signature scrollwork (just check any of my college notes and you'll find the same curls in the margins) and offset it on the other side with some decisive diagonal lines. My 30 seconds were up, and I opened my eyes.
My first reaction was to start over again. I wasn't pleased because it didn't really look like anything; certainly not at all a calla lily. A second look revealed to me a pseudo-cubist view of an eighth note on a staff (leave it to a singer to see music in anything). But it wasn't until I started writing this piece that I realized that my picture doesn't have to be anything.
I spend so much of my life trying to make things perfect, trying to follow all the rules and stay within the lines that I often forget that sometimes there are things that don't fit neatly in little boxes. And it's nice to be able to relax and let things just be.
So, what does it look like to you?