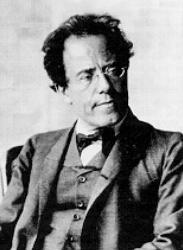 So I had all these grand plans about posting a day-by-day journal of my trials and tribulations learning Mahler's Ruckert-lieder for my concert with the Delaware County Symphony this Sunday. But then life intervened, and I spent more time actually learning the music rather than writing about the process.
So, suffice it to say: this concert is my first professional solo experience with an orchestra. I'm 35 years old and I've performed solos in front of a big band, in opera houses, and with choruses, but never just me and an orchestra, and it's kind of nerve-wracking. I've got the music memorized, but it's still a little shaky, and I'm worried I'll forget as soon as I start listening to the orchestra instead of the recordings I've been practicing with. Maybe I should hold the music just in case? Would that look bad? I think it would look worse if I completely forgot all the words in front of a full audience!
I've got a dress rehearsal tomorrow, and I've promised to put my book down for that rehearsal. We'll see how it goes. I'd love to be able to have it down cold, but my brain hasn't gotten to that point yet…
Either way, this is good practice, because the next opportunity I will have to sing with a full orchestra will be in November for Verdi's Requiem with the Lancaster Symphony Orchestra. Masses and cantatas don't require soloists to memorize their music, but I certainly would rather have my head out of the music as much as possible.
Keep your fingers crossed.