In December, a big winter storm blew through Philadelphia on the second day of the Philadelphia Singers' Christmas on Logan Square concert. An email went around to the singers announcing that despite bad weather conditions, the show would still go on. Singers and audience members alike were offered a special group rate at a nearby hotel, and we were cautioned to be careful getting into the city. My friend @ApatheticAlto and I agreed to share a hotel room because we both live quite a ways from the city, and we had to be back in the city the next morning for church.
That night turned out to be lots of fun. The concert was well-attended for blizzard conditions, and after the show a group of us singers went back to the hotel for some dinner and drinks. The next morning ApatheticAlto and I had breakfast at Little Pete's diner before church.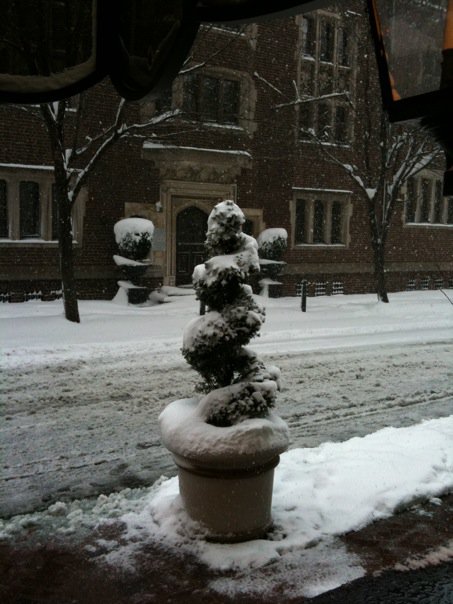 Two weeks ago, warnings of another winter storm were blanketing the airwaves, and because we were involved in performances over the weekend when the storm was supposed to hit the hardest, ApatheticAlto and I decided to share another hotel room, this time for two nights.
Friday night was fun; going to the hotel bar after our performance and knowing we didn't have to drive anywhere led to a little overindulgence, the effects of which ApatheticAlto acutely felt the next morning. Nevertheless, we had been invited to a waffle breakfast by some friends only 6 blocks away, so we bundled up and ventured forth into what looked Philadelphia if it had been transported onto the planet Hoth.
Most of the streets had not yet been plowed, and the snow fell quietly as we made our way through the drifts, sometimes walking on a well-salted, shoveled sidewalk, sometimes walking in a plowed street, and then finally giving up and tromping through the knee-deep snow. Once we arrived at our friends' house, we decided we didn't want to leave until much later in the day, because the snow was falling steadily, about an inch per hour. Later that afternoon, we found out that the orchestra canceled that night's concert because the weather was so bad that SEPTA was closed and there was no way for even the orchestra members to get to the concert.
Though we were disappointed by the turn of events (cancellation because of force majeure means we didn't get paid for the concert, and we still had to pay for two nights at the hotel), we made the best of our situation, and we all went out to dinner at an Italian bistro. I offered to sub for the other alto at ApatheticAlto's church on Sunday, so I did make at least a little money while I was in town.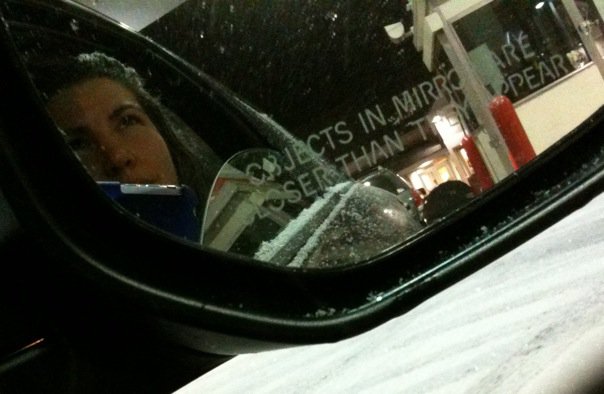 Since that storm two weeks ago, Philadelphia hasn't really been able to dig itself out. Another blizzard found its way to our doorstep Feb. 9-10 (Tuesday and Wednesday), destroying my plans to go down to Baltimore and sing songs from my recital for composition majors at Peabody (I know, that sounds totally boring to you, but it was a big deal for me). It started snowing again last night, and as of the time I'm publishing this post, it hasn't stopped. The weather people say it'll be another 4-8 inches, which isn't very good news in a town that is used to only a couple inches of snow a year. Luckily, my dinky little NJ township suburb has been doing a better job plowing its streets than Philadelphia, but operations seem to have ground to a halt because of the snow.
I don't remember being as concerned about the snow when I went to school in Boston. Maybe it's because the winters were always very snow-heavy, and people had learned to adapt. Perhaps I didn't notice it as much because I didn't have to drive in the stuff. But I have to say, I'm not much of a snow bunny, and these past two weeks have had both me and Ray pining for Hawaii in a big way.
It's Always Sunny…er, SNOWY…in Philadelphia