Back in September, when I was rehearsing La bohème, I got this text from a fellow chorister: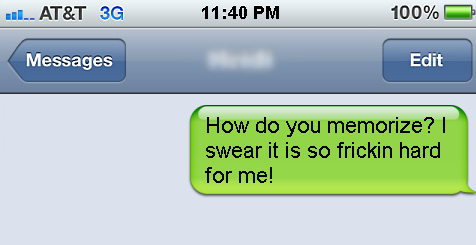 Many of us had been furiously studying our music over the past week, getting ready for staging rehearsals, when we had to be off-book. I had also spent almost the entire month of July memorizing the role of Dame Quickly in Falstaff, so good memorization techniques have been fresh in my mind.
I thought it might be nice to share them here, for those who might be having some difficulty memorizing their own music (or play or test material or whatever…these techniques are fairly universal, although I will mostly be talking about memorizing words and music, since that's what I do most often).